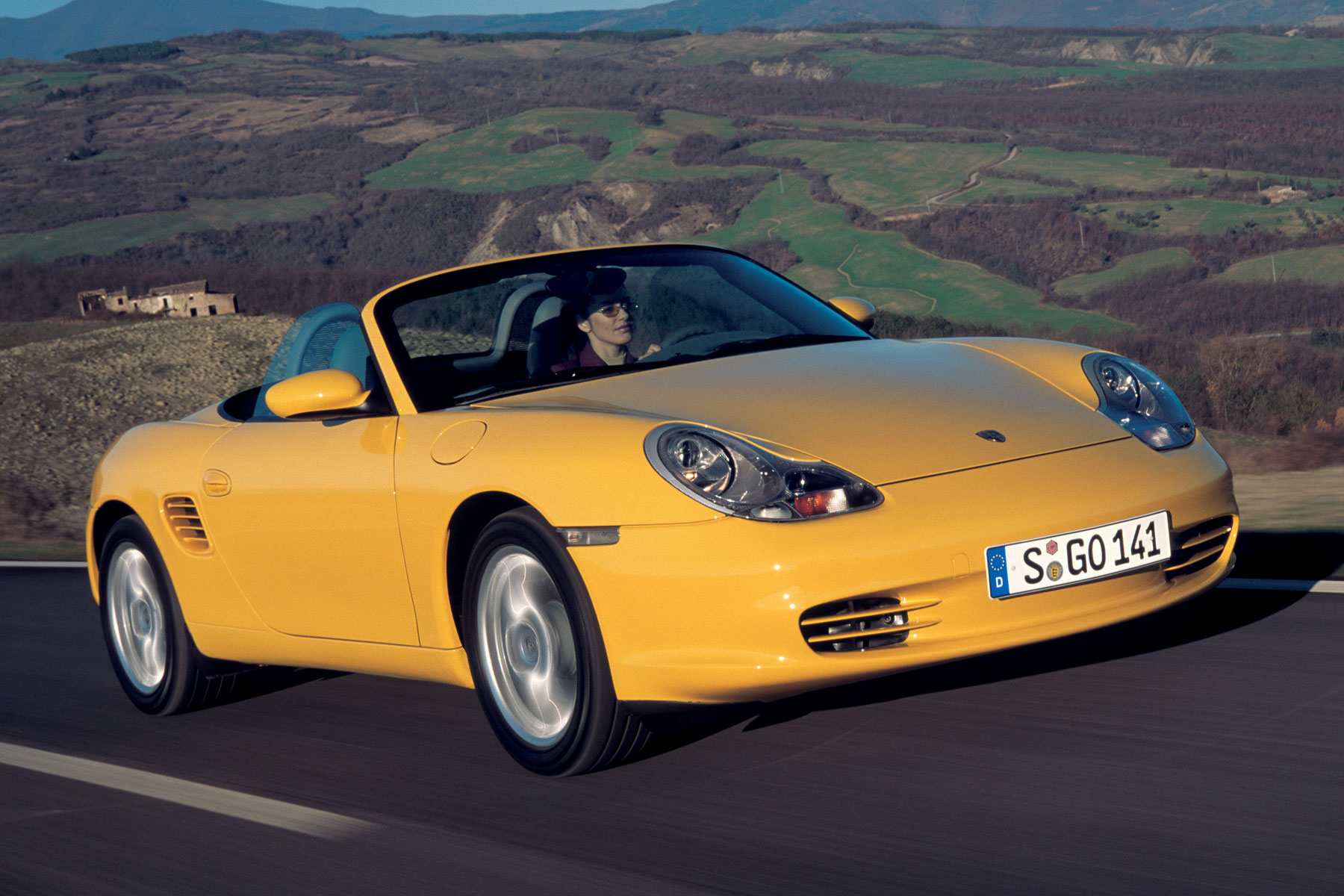 An early 986 Boxster S can be picked up for less than £5,000 today. While it's not something we'd go into without our eyes open, a secondhand Boxster is a desirable future classic and could make for an excellent used purchase. Do your homework on common issues – including IMS failure – and consider getting a potential buy checked over by a specialist.

This review on the Porsche Boxster S 986 was first published on MotoringResearch.com in 2002.

Model: Porsche Boxster S
Bodystyle: Convertible 2dr
Engine: 3.2 horizontally-opposed 6-cylinder
Fuel: Petrol
Transmission: 6-speed manual
Date of Test: September 2002
By: Peter Burgess
What is it?
This is the car that brought the Porsche brand within reach of a wider audience, without the compromises seen in earlier "budget" models like the 944 and 968. Unlike these, the Boxster is seen as a true Porsche, with a six-cylinder engine placed behind the seats, just like the 911. Except that the Boxster is strictly a two-seater with the engine in front of the rear wheels rather than behind them as in the bigger car. It also comes only as a convertible, though a hard top is a common option for the winter months.
Where does it fit?
The S is the top of a two-car Boxster range, with a 260bhp 3.2-litre engine. It costs under £40,000 but that is just a starting point, for the options list is long. For those on a tighter budget the 2.7-litre standard Boxster comes in at around £32,000 though much of the saving is accounted for by lower equipment levels. Competitors for the Boxster S are thin on the ground. BMW's M Roadster was the right sort of package but a new version based on the Z4 is some way off. Honda's S2000 looks right on paper, with 240bhp, but this is over £10,000 cheaper. Various TVRs and Mercedes' forthcoming CLK convertible also provide chalk and cheese competition.
Is it for you?
£40,000 for a brand new Porsche may be comparatively cheap, but there is no escaping that this is still a great deal of money. Launched in 1996 it has receive a couple of very minor facelifts but it still looks as good and desirable today as it did then. Obviously the Boxster is performance machine yet it is also straightforward to drive, fitting the bill as a weekend toy or as an everyday commuter vehicle equally well. It is, however, a relatively common site on our roads, which counts against it. It is also not a Porsche 911, a car that many Boxster owners secretly hanker after.
What does it do well?
What the Boxster does so well is offering deep appeal to a wide range of drivers. For the real high performance driver the Boxster S measures up in many respects to the much more expensive 911. The engine has a charismatic howl when extended, the acceleration is vivid and the steering and handling are precise and finely honed. In fact it is the blend of abilities that makes this Porsche so attractive, for it is just as comfortable as a car to cross continents.
What doesn't it do well?
It extremely difficult car to fault, so well judged is the Boxster package. We would have noted that fact that the rear window is made of plastic, but 2003 model year cars get glass with a heating element. Certain aspects about the style and interior switches could do with updating, but they are hardly problems. What is difficult to live with is the price of the optional extras, some of which verge on the criminal. Oh, and a TVR offers much more performance for the money.
What's it like to live with?
A two seater sports car from any manufacturer is never going to have practicality high on the agenda but the Boxster shapes up well. A boot in front and back means luggage space is about as good as you'll get in a roadster and better than in a 911. The roof powers into place in 12 seconds. It even does 26mpg and you can specify Porsche's Tiptronic automatic transmission for a mere £1,759. The Boxster is comfortable for drivers of all shapes and sizes and while the suspension is firm the ride is generally very acceptable.
Would we buy it?
Wholeheartedly. We admire the blend of abilities the Boxster S has to offer, combining comfortable touring car and high performance sports car with very little compromise. Coupled to that it is still great looking and, as it was designed as a convertible in the first place, it's style arguably has the edge over that of a 911 convertible. What's more, the S is so accomplished that you have to question whether there is any real place left for the 911 convertible at all, notwithstanding the £20,000 premium.